MANOWAR has started to give away parts of the CD cover for the upcoming new album GODS OF WAR, which is set to be released on February 23, 2007 in Germany (February 26 for the rest of Europe and April 3 for the USA/Canada).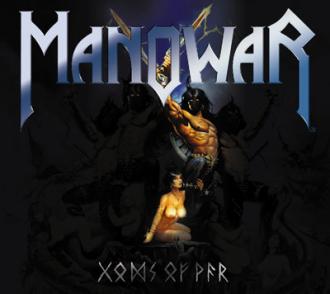 Next to this first taste of what the album cover will look like, the band also gives away a bit more info about the CD - concept, including 2 more song-titles. GODS OF WAR is MANOWAR's first entry in a cycle of concept albums; each a tribute to a different war god. Opening with the epic piece "Overture To The Hymn Of The Immortal Warriors", the tone is set for an album beyond anything MANOWAR has done before. This album honors Odin - almighty father of the Norse gods - and details the history and exploits of this storied character. His power and wisdom were unmatched among the gods and he is paid tribute with human sacrifice on the battlefield, as heard in the song "The Sons Of Odin", the stomping title track "Gods Of War" and the storytelling "The Blood Of Odin".
MANOWAR will continue with revealing the cover in their upcoming E-Card, so keep an eye on www.kingsofmetal.cz to make sure you don't miss anything!